My ThinkPad T440s (wireless chipset Intel Corporation Wireless 7260) running Ubuntu 22.10 has been exhibiting unexplained periodic latency spikes on WiFi.
Observed behavior
The spikes occur exactly every 5min and cause the latency to spike from below 10ms to over 100ms.
The behavior occurs only on WiFi and not on a wired connection.
The latency spikes are not correlated with other devices (e.g. my phone or MacBook).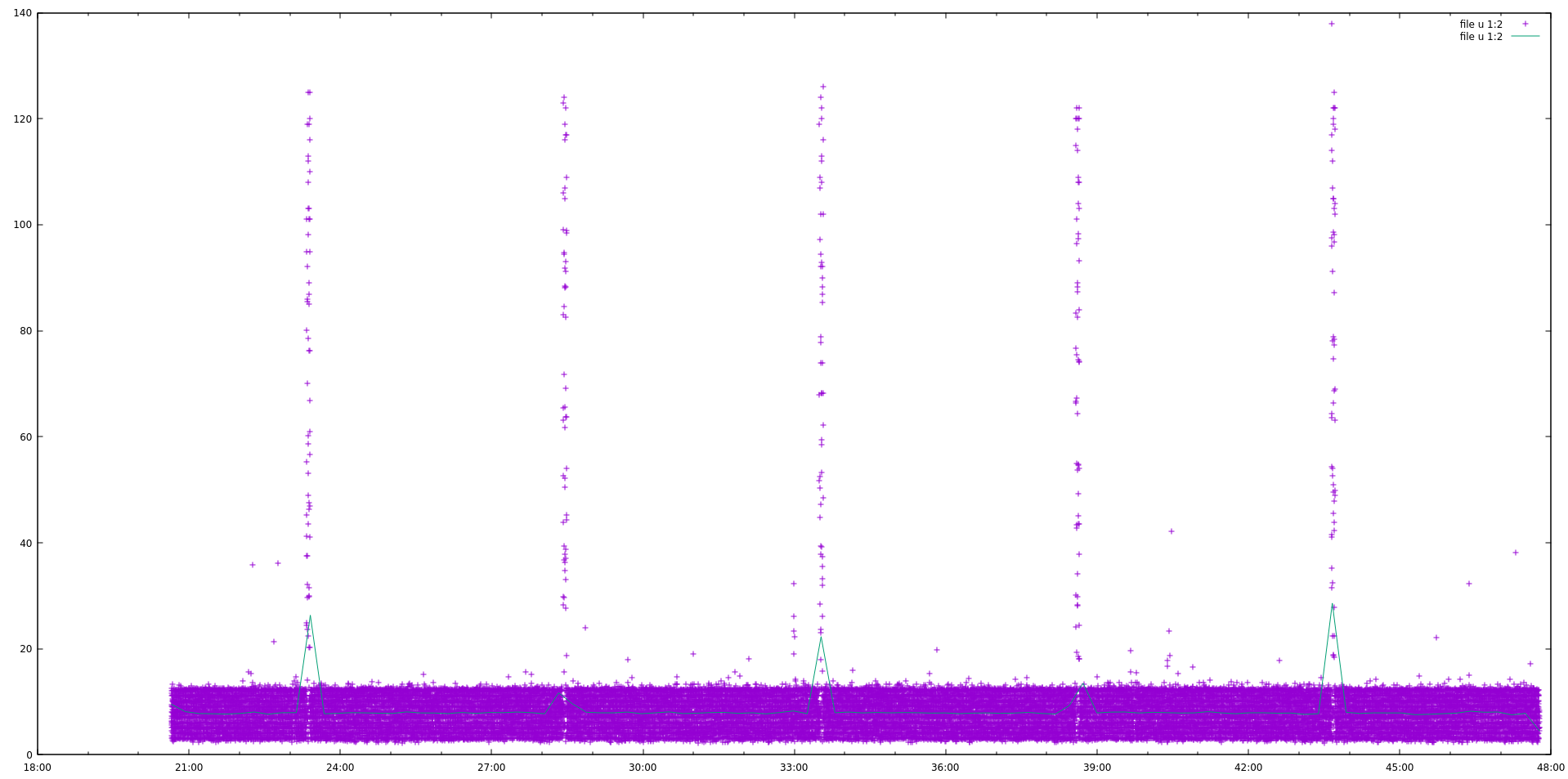 Cause
A default Ubuntu install automatically runs geoclue to provide location services. Per default, geoclue scans for nearby WiFi access points every 300s (5min) which causes a freeze in WiFi traffic for the duration of the scan. This is not a new issue and has been reported before. The behavior can be reproduced by triggering a manual scan:
Solution
Disable WiFi scanning in geoclue by editing /etc/geoclue/geoclue.conf:
# WiFi source configuration options
[wifi]
# Enable WiFi source
enable=false

Tooling
Sampling latency
Sample WiFi latency by running ping every 0.1s. This produces a row containing the timestamp and latency for each ping (rg is ripgrep).
ping -s 

64

 -i 0.1 -D 192.168.1.1 | rg 

'\[(.*)\].*time=(.*) ms'

 -r 

'$1,$2'

 --line-buffered | tee latency.csv

Plot latency
The results can be plotted using gnuplot.
gnuplot -e 

"file='latency.csv'"

 plot.gnu

plot.gnu script:
set

 datafile separator 

","


 




set

 xdata time


set

 timefmt 

"%s"




set

 format x 

"%M:%S"


 




p

 file u 

1

:

2

,

 file u 

1

:

2

 smooth bezier with lines
 




# Automatically refresh every 1s, comment out to disable




pause

 

1




reread



Other useful tools
blip can be used as a secondary method for sampling latency.
nethogs can be used to monitor application network usage.
wavemon can be used to monitor WiFi signal health.